---
In the year 2000 an advert was placed in a local paper by long time scooter rider Pete Hinsley. In a short time a dozen people had responded and were meeting at a pub in the New Forest.
In 2001 the club was officially formed, the legshield banner and club patch were produced and the club ended the year with 37 members. Membership has fluctuated over the years and we are currently an active, friendly and thriving group of more than 50 scooter riders and enthusiasts. Our members mainly live and work in the New Forest area, but also as far apart as Ringwood, Southampton, Gosport and Bournemouth.
Our aim is to encourage the regular use and enjoyment of two-wheeled motor scooters, mainly Vespas and vintage Lambrettas, but any make of scooter - old or modern - is welcome.
We take part in many regular activities, such as ride-outs every Sunday and monthly meetings in the Mailman pub in Lyndhurst (next to the Ferrari showroom).
To find out more about us and our activities, check out our "What's On" page, come along to our meetings and ride-outs or have a look at our forum for the very latest info on what's happening (you will need to register to look but this is generally a painless experience!)
We hope you enjoy your visit to our site which is updated regularly and please ride safe.
---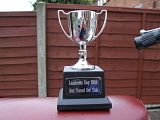 Awards won by our members and the Club.
Best turned out club Hemsby Winter Warmer 2002

Best turned out club Woolacombe rally 2002
Best turned out club Modrapheniacs End of Season do 2002

Best turned out club Solent Cougars rally 2002

Best Lambretta - South Coast Cruisers 10th Anniversary rally 2004

Best Lambretta up to S2 - LCGB Sussex Weekender 2004
Best turned out Club - Isle of Wight Lambretta Day 2008 & 2010
Alan Godden oldest travelled - Euro Lambretta Lincoln 2009
First place - Model A/Bclass, Euro Lambretta Lincoln 2009
Furthest travelled - LCGB Coast-to-Coast run 2009

Furthest travelled - Hull rally 2009

1st place - Best supporting member LCGB Solo Championship 2009
2nd place - Best supporting member LCGB Solo Championship 2009
8th place LCGB Club Championship 2009
Best standard Lambretta - Sandford rally 2010
Furthest Travelled - 4 Nations LCGB rally 2011
10th Place - LCGB Club Championship 2011
Best customised Lambretta Hailstone Angels Alldayer 2011

Best mod scoot Solent Cougars rally 2011
Furthest travelled BSRA Kelso rally 2012
Furthest travelled BSRA Lincoln rally 2012
Best mod scoot Solent Cougars rally 2012
Best mod scoot Renegades 30th Anniversary Alldayer 2012
Best custom scoot Due South Alldayer 2012
Best Lambretta Renegades 30th Anniversary Alldayer 2012
Best customised Lambretta Hailstone Angels Alldayer 2012
Best classic Lambretta Due South Alldayer 2012

Best auto Soldiers Off the Streets rally 2012

Furthest travelled BSRA Bridlington rally 2012
BSRA best supporting member 2012